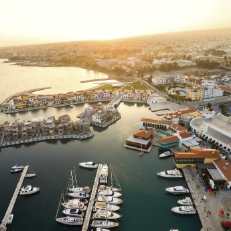 Permanent Residence Permit in Cyprus
Foreign citizens, of third countries outside the European Union, are entitled to apply for Residence Permit in Cyprus on the basis of the Categories referred to in Regulations 5 and 6(2) of the Aliens and Immigration Regulations.
Due to Cyprus' small size and geographical position, combined with low crime and low tax on income, its' cosmopolitan city style and international business establishments, and its unique nature, the Mediterranean Sea and a bright sun that shines over 300 days per year, makes Cyprus a popular destination for foreigners looking to reside to.
Cyprus Resident and Immigration Permits are granted according to certain provisions and criteria. Depending to the different circumstances of each Applicant, different provisions and different type of Residence Permits can be granted.
Our team of Immigration lawyers and consultants will consult you on the requirements of the whole application process.
We aim in advising you on all necessary questions and to assist you on the preparation of all documents necessary for submission. We submit the complete application together will all necessary supporting documents to the authorities on your behalf, we monitor the status of the application and we act as a liaison with authorities during the examination of the application. Our target is to make this process as easy and as fast possible for our clients.
Property Investment Options
The minimum investment amount is €300,000 + VAT (if applicable). Investors have the option to invest not only in new residential properties, but also in:
new or resale offices;

hotels;

shops;

commercial properties.
Alternative Investment Options
The applicant has the option to invest in the share capital of a company with physical presence and activities in Cyprus which employs minimum five persons.
If the investment will be in residential properties, the applicant must be able to prove that a minimum amount of € 200,000 + VAT (if applicable) is paid.
In all other investment options the total minimum amount of €300,000 + VAT (if applicable), should be settled prior to the submission of the Residence Permit application.
Investors may choose to invest in different sections of the Cyprus Undertakings for Collective Investment in Transferable Securities (UCITS), such as:
Alternative Investment Funds (AIF);

Alternative Investment Fund with Limited Number of Persons (AIFLNP);

Registered Alternative Investment Funds (RAIF).
The investment funds must emerge from abroad and in order for the permit to be sustained should be maintained or replaced by another investment of the same or greater value.
Additional Information
Additionally, to the initial investment the applicant must prove a secure annual income (including salaries from employment, pensions, dividends, fixed deposits, rentals) of at least €30,000, increased by €5,000 for every dependent person (spouse and children) and by €8,000 for every dependent parent or parent-in-law.

In the situation where the applicant would invest in new residential units, the annual income must derive from abroad, for all the other investing options the income can be generated from sources within Cyprus. It is important to mention that both the income of the applicant and the spouse can be taken into consideration.

The applicant and/or the spouse can be shareholders in a Cypriot registered company and receive dividends or holding a position of Director in a company without receiving salary.
The Residency card is obtained approximately within 2,5 - 3 months.
Why apply for it
An Immigration Permit gives a Non-EU national the right to permanently reside in Cyprus; it excludes you from any immigration entry procedures and controls. Your family can also obtain it (married spouse, children under 18 years old and financially dependent children up to 25 years old).
For more details as to how we can help you, please contact us now. 
No Obligation For Fixed Deposit
The pledging of a deposit in a Cyprus bank account is no longer required, nevertheless the applicants should still confirm that they do not intend to undertake any sort of employment in Cyprus, apart from the position of the Director in the company that they might have chosen to invest in.