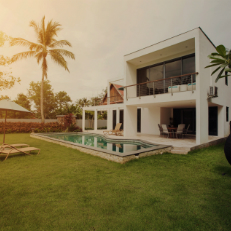 Cyprus Real Estate Sales & Purchases
Our property law and real estate lawyers have the specialist expertise and knowledge that you need, to advise on, and handle, all matters and stages of real estate transactions.
When representing a purchaser, we strongly recommend that prior to any financial or other commitment towards the seller you should first ensure that the seller has the legal, or equitable, title to sell, that the property is available for sale and that a title deed can be successfully transferred onto your name. By further undertaking the necessary land registry searches (recommended) you will also be well aware whether there are any encumbrances, liabilities or attachments over the property. Upon such information at hand, you shall then be at a position to make up your mind and with our lawyers' assistance decide whether the property is fit for your purpose and secure to acquire.
Further, due to our experience, know-how and knowledge in the sector, we are able to facilitate introductions and, therefore, help deals happen. This is not only due to our experience in Cyprus property law matters, but also because we have experts in all key areas of law, including tax, corporate M&A, investment funds and commercial law.
For more details as to how can we help you, please contact us now.
We provide full legal and administrative support and advice on every aspect of commercial or private real estate transactions, including but not limited to:
undertaking advance legal due diligence in order to ensure the property's and the seller's status;

negotiating, drafting and/or reviewing Sale and Purchase Contracts, as well as Lease and Rental Agreements;

representing our clients before the Inland Revenue (for stamp duties calculation and payment) and before the Land Registry (for registering the contract of sale);

representing our clients before domestic authorities for ensuring successful authorization in order to register the property under sale to our clients' names;

assisting on obtaining bank finance for property purchases.
Upon execution of the Sale and Purchase Agreement, our team of property consultants will assist you on properly taking care the post completion matters in order to (a) better secure your legal rights and (b) not to miss any statutory deadlines which may result to penalties and/or other legal limitations, such as:
legalizing your sale agreement with the inland revenue (payment of stamp duties) within the statutory limits, and

registering your sale agreement with the land registry authorities in order to "notify the public" of your ownership and thus secure your rights over the property, within the statutory limits,

Foreign purchasers should also ensure that they have been granted with the necessary authorizations enabling them to register the property onto their names (council of minister's approval).

Furthermore, through our AGP Corporate Team we can assist with offering escrow services for security of our clients, in cases where it appears to be appropriate or a necessity under the circumstances of each case.