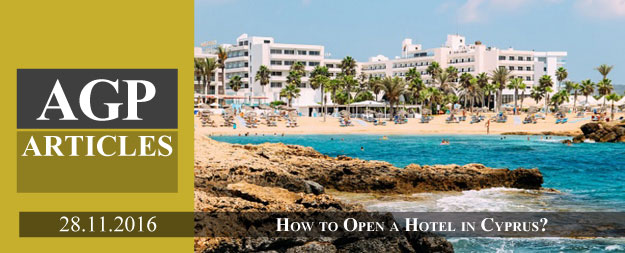 The hospitality industry in Cyprus, and in particular hotel establishment and operation, is regulated by the Hotels and Tourist Establishments Laws (1969 to 2014).
In order to operate a hotel or other tourist establishments in the Republic of Cyprus, the interested parties are required to obtain a certain number of permits and licences from the competent authority, which is the Cyprus Tourism Organisation. The licence can be granted, provided that all eligibility criteria are met, to a natural person residing in the Republic of Cyprus or in another EU member state or to a legal person established in the Republic of Cyprus or in another EU member state.
What steps must be followed in order to open a hotel in Cyprus?
General indicative guidelines:
Register a Company with a Memorandum providing for the operation of a hotel;

Prepare the studies (specifications) and applications that are required in order to obtain the necessary certificates of suitability, licences and permits from the Cyprus Tourism Organization;

Register with the Tax authorities (for VAT, VIES etc);

Register with Social Insurance and others.
What is the hotel classification system in place in Cyprus?
Depending on the conditions prescribed for each class in respect to the position, appearance, number of beds, building layout, value and quality of construction, furniture, equipment, staff, organisation, services and amenities provided, hotels, motels and bungalows may belong to one of the following star-category:
5 star (*****)

4 star (****)

3 star (***)

2 star (**)

1 star (*)
The specifications of each category in detail may be found on the website of the Cyprus Tourism Organisation or you may contact a legal consultant to assist you in the registration/licensing procedure of a hotel in Cyprus.
What about any other conditions or restrictions?
According to the law, in order to obtain the licence, the proposed Manager of the Travel Agency must provide evidence of relevant academic background and work experience.
Furthermore, it is to be noted that the hotel owner or manager is required to comply at all times with the regulations stipulated in the Law. For instance, according to some of the applicable restrictions, the hotel owner/manager is not allowed to:
lease rooms or use any areas of the business when the building and its surroundings have not yet been completed;

publish misleading information in respect to the hotel;

refuse to offer rooms in order to satisfy the needs of internal tourism, when there are available rooms;

receive greater sums or offer discounts beyond those approved by the Organisation;

lease or sub lease to persons unknown to the establishment restaurants or other categories of catering & entertainment establishments which are possibly in operation within the hotel establishment.
The above non-comprehensive information is indicative and cannot be considered as legal or other advice. In case you are interested in establishing a hotel in Cyprus, it is recommended that you seek legal professional assistance.