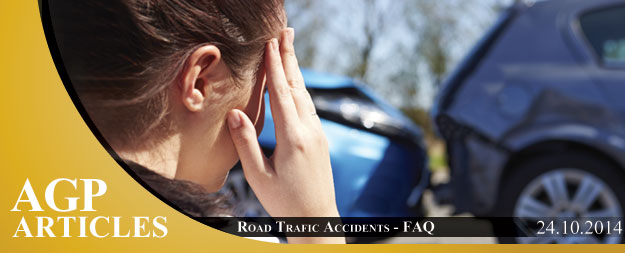 Have you had a road traffic accident in Cyprus?
—
What should you do?
1. Document the accident
After having ensured that nobody has been seriously injured or that adequate medical assistance has been provided or is on the way, you should document the accident.
Take pictures of the scene of the accident (position of the vehicles after the accident, tire marks, damaged vehicles, property or signs); generally speaking, insurance companies may take pictures of the scene, however we recommend that you also do that.

Get the contact details of potential witnesses who can give information about the accident – their witness statement can be of great importance either during out-of-court settlement negotiations or in court.

Write down important details regarding the circumstances under which the accident took place.
2. Contact the police
The police will study the scene of the accident, carry out the required alcohol tests and prepare the report stating the eventual violations of the Traffic Road Code and the cause of the accident. This report could be used at the Court for your compensation claim; therefore, make sure that you, or your lawyer, will request the police report.
3. Contact the insurance company
Provide the details of the other drivers. However, do not sign any documents without proper examination and consideration. You may compromise your compensation rights and settle for a smaller amount than the one you are entitled to.  Have in mind that insurance companies are organizations aiming at their own best interests, not yours.
4. Contact your lawyer
This step may seem unnecessary for some people. However, it can be the most crucial, that a proper legal advice is taken which will ensure that you will receive the compensation you are entitled to.  Insurance companies may do an offer for settlement to you, it is our strong recommendation that you do not accept it without consulting your lawyer.
An injury may seem insignificant now but may deteriorate later on.  Further than that have in mind that insurance companies will offer you a settlement that will cover your doctor and pharmaceutical expenses, and possibly other related expenses such as car/motorbike damage, etc.  Insurance companies will not offer you compensation for damages due to personal injuries and if they do they will never be to the amount you are entitled.  Such compensation for damages can be great and you are entitled to it.
Have you have suffered injuries?
If yes, then seek immediate medical assistance and note that you have the right to choose the doctor of your choice. In order to ensure maximum compensation, keep detailed records of your visits, treatment and prescriptions. These could be used as evidence at the Court.
Our services
Our Firm's lawyers represent accident victims on a daily basis, who have been injured as a result of someone else's fault or negligence.   Our team of personal injury litigators specialize on all kinds of personal injury cases in Cyprus and it would be our pleasure to meet you immediately right after an accident.  For more details of our services please refer to the Personal Injuries page of our website or call us at 25-731000.  We can represent your best interests anywhere you are, in Cyprus.
Our target
Our target is to get you all your expenses covered from the insurance company and that you will further be compensated to the maximum possible for all damages you have suffered as a result of the accident.  Depending to your injury and your particular circumstances your damages will be calculated.  Bear in mind that "damages" is a compensation you are entitled to in addition to your expenses suffered as a result of the accident.    For example, if you have been the  victim of a car accident and as a result of the accident you have ended up with (a) a broken leg, (b) a damaged car which needed 5,000 euro to be fixed, (c) 1,500 euro doctors' and pharmaceutical expenses, and (d) 500 euro physiotherapy, you will be entitled to all amounts mentioned in (b)-(d), so total 7,000 euro, plus an amount of money as compensation for your broken leg which can be few thousands euro.