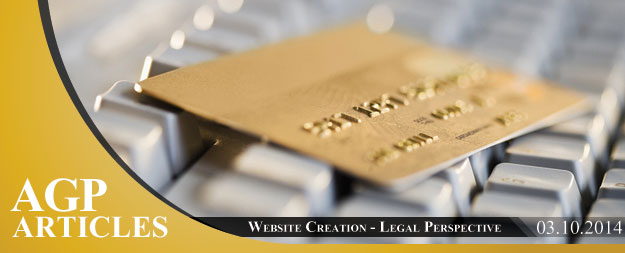 Creating a website…it seems simple right?
Well you have done the hard stuff, like setting up your company, creating your business plan, making sure you have all the necessary licences and legalities involved within your industry…you have even written the content for your website, so now all that's left is a simple but effective website right?
Actually the e-commerce entrepreneur needs to do a lot more that just create a website. An e-commerce entrepreneur needs to be in line with all website legalities in order to avoid liability and so though it is simple to set up your website.
Vigilance is needed in order to make sure it is set up properly.
Websites and virtual only businesses allow you to expand in more ways than standard businesses with four walls, but just as there are rules and regulations for standard businesses, there are rules and regulations for virtual businesses and websites.
These rules and regulations differ slightly for each industry involved for example, a legal website has different rules that are set up by the Bar Association of its jurisdiction and a financial services website will have to be compliant with regulations applicable in its industry.
The laws and requirements for a website vary and are connected to different areas of the law such as; intellectual property, privacy and security, commercial law, finance laws etc. You need to establish which laws are applicable for your specific service and industry before beginning. You also need to check any legal requirements of your jurisdiction.
Some typical legal contracts you are confronted with, and typical legal issues that may arise are:
Content in relation to advertising: Advertising rules change according to your jurisdiction. In Europe for example, you cannot add content that will mislead the client, create a misrepresentation of the product/good/service, or provide false statements.
You also cannot say negative things about a competitor (defamation). You can though make factual statements, such as price comparisons with your competitors. Saying things like 'the Best chair in the world is also not permitted, as this would be considered as a misleading statement… hence Carlsberg's "probably the best beer in the world" campaign.
Marketing: The website should be appropriate for the target age of the product/good/service. If the products are only for adults there must be the respective disclaimer and information that states clearly that the site is destined for adults only. If the website is for young children, there must be disclaimers stating that parental consent has been given for the child to use the website.
Intellectual Property (IP): You must not use a trademark that belongs to another company either as your domain name, or as a keyword for search engine optimization. You have to make sure your content is original. If you use content or music that belongs to someone else with permission, the necessary rights should be drafted in a contract as having been assigned to you.
Website and Software: The first contracts you are confronted with when creating your website are the website construction contract and the software usage license. These contracts include issues such as site functionality, design, software required, permissions etc. Within the software development contract you will find clauses such as the rights of the software, its licensing, IP rights, confidentiality etc. Be sure to check and review these contracts thoroughly with the help of your legal counsel in order to be sure that you are in full agreement with the conditions.
Terms and Conditions: These are the contractual terms between the website and user. It is the conditions a user must follow when using the website. It also is a way to inform a user of how personal information is used, how accounts will be used (If the website is offering user accounts). Terms and Conditions need to be drafted in detail and cover all areas of the website's usage and the use of the services/product/good provided. Whenever changes are made to these terms and conditions, website users should be informed either by email, pop up, banner, or any other communication method.
Privacy and Security: This informs the client of how information is stored, shared, kept, and handled, whether the website uses 'cookies', and other information important for the client to know and be aware of. If the client's information will be passed on to third parties, s/he should be aware of it and needs to consent before information is collected. This is very important as some web sites provide services that require very detailed personal information about a client such as name, address, number, bank details, next of kin etc.
Misuse of this information can lead to identity theft, fraud, and other serious fraud crimes, therefore it is very important that this information is stored in a way that is secure and safe, and that the client is aware of it.
If you plan on starting your own e-commerce business, do not hesitate, e-commerce is a way to share your business with the world, but it is necessary that all legalities are followed for both your business practice and your website. A law firm with experience in e-commerce can draft all agreements and contracts necessary to protect you and your business.