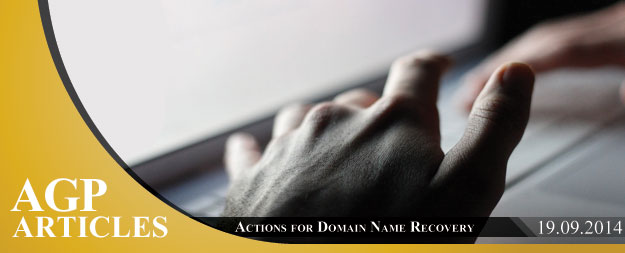 Actions to take for a domain name recovery
There are various situations you may be confronted with that will need you to take action for domain name recovery.
A very common situation is when your domain name has not been renewed on time. It is very important to keep up to date with all expiration dates and periods in order to prevent such an occurrence. A good way is by creating a database system that tracks all expiration dates and provides you with a reminder when its time to renew.
Another situation is where you have had your domain name hijacked. This usually is due to a fraudulent transfer of your domain to another third party, or phishing and pharming attacks, identity theft, DNS configuration changes that damage services operating under your domain name, website hacking etc.
A third situation is where your trademark has been cybersquatted. Cybersquatting can occur if someone registers your domain name using a similar format and/or another country extension, for example www.agplaw.com  may be registered by a cybersquatter as www.agplaw.fr or www.agp-law.com. Changing the country extension would mean that when your company decides to expand, it finds itself blocked from registering its domain in specific country as it has been already taken. The way you can verify if a domain has been cybersquatted, is if the site connected to the domain has no legitimate right to that domain name.
Another common situation is where a company has invested in a specific brand name and promoted it online, and did not check beforehand if the domain .com name was available. This usually is an opportunity for competitors to take advantage and purchase the domain name.
So, once you established the problem, you have the following options to get your name back.
The options you have depend on your situation, but often you have two possibilities. ICANN arbitration or domain purchase. Both options cost money so you really have to evaluate your situation before making your move. Suing the new registrant would be too expensive and take a long time before the situation is resolved so it is better not to take this option.
ICANN arbitration
If your trademark is part of the domain name you are looking to recover, you have a chance of getting it back through ICANN's Uniform Domain Name Dispute Resolution Policy (UDRP) through the WIPO. If your brand is well know, at least in your home location, it can be an effective way of gaining the control back.Though an individual can file a dispute alone, it is highly recommended to get a legal counsel to do it. Here, you will have to wait around 2 months to get a decision and though there is a cost involved, it is much cheaper than suing the new registrant directly.
To have a successful UDRP case, you will have to prove the following:
The domain name must be identical or confusingly similar to a trademark or service mark in which you have rights.

The current registrant must have no rights or legitimate interests in the disputed domain name.

The domain name must be used in bad faith.
The third element is the trickiest one because you have to demonstrate that the registrant has offered to sell the name. Registering a domain name without using it is usually not seen as "bad faith" by most arbitration panels.
Domain name negotiation
Some people try to negotiate anonymously for their domain, you can try this in order to get a clearer picture of what kind of costs you are looking at for recovery.
If you possess the Trademark, you can ask your legal counsel to prepare a "cease and desist" letter to inform the registrant that you are the legitimate owner of the mark and have rights on the domain name. This sometimes is enough, but if you have no response, you could send a reminder letter and then file a UDRP case. If the domain is not yet active, you should monitor it and try to recover it once it has started infringing your mark. When dealing with Russian or Chinese registrants it is highly recommended that an expert negotiator is put into place to investigate your chances beforehand.
When negotiating, if you do not have the trademark, you have to be ready to spend thousands of Euros to get it back as its value depends on its traffic.
As an example, a domain name that gets 100 visits per day could potentially generate 10 clicks per day. Knowing that each click through might earn from 0,02 € to 0,8 €, it could generate between 100 € to 300 € per year…etc.
Anticipating domain name problems.
Once you start your business, it is important to anticipate these problems and get an intellectual property legal counsel to assist you. Perhaps your legal counsel could be responsible for managing your portfolio and can organize your renewals as well as monitor for trademark violations. All these precautions will optimize the protection of your brand and business online.