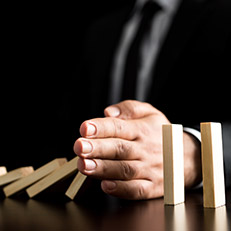 Risk Management
Through our One-Stop-Shop package, we offer outsourced Risk Management Services.
Similarly to regulatory compliance, AML and internal audit, Risk Management is another critical supervisory function of the operations of any regulated company – whether it is an investment firm, a payment institution or an investment fund.
Any failure by the Company to identify critical risks, whether due to such risks being unidentified or due to the Company's inability to identify and properly handle such risks, may lead to significant damaging effects over the Company itself, its operations and its financial stability and standing, and ultimately to its Shareholders and Investors.
The operations of a Risk Manager require solid experience, knowledge and deep understanding of, amongst others, credit risks, market risks, operational risks, as well as other risks depending to the Company's operations.
AGP Law will recommend experienced Risk Managers working with and in cooperation with the AGP Group for many years, who can actively monitor and implement such risk management measures that will ensure that our clients' risk management needs are fully covered and duly protected. Providing Risk Management outsourced solutions for our clients we aim at our clients' piece of mind that the Company's operations are properly monitored through professional Risk Managers - to AGP Law's satisfaction - who can, when possible, prevent and effectively tackle any risk that may manifest, with no or as minimal as possible effect on the company and its stakeholders.
For more details as to how can we help you, please contact us now.