Whether it is a Straight Through Processing (STP) or a Market Maker model with Dealing on Own Account, or a Tied Agent, our team of experienced compliance consultants have an in-depth knowledge and are able to put in place and oversee all the necessary.
The members of our compliance team have long term in-house experience gained from working at major financial institutions, giving them the advantage and ability to understand your business model and how can it be best complemented.
What makes our compliance service even more attractive is the fact the we offer it on an annual retainer basis; this method of cooperation frees our clients making them calm on their annual expenses without unforeseen or hidden costs.
For more details as to how can we help you, please contact us now.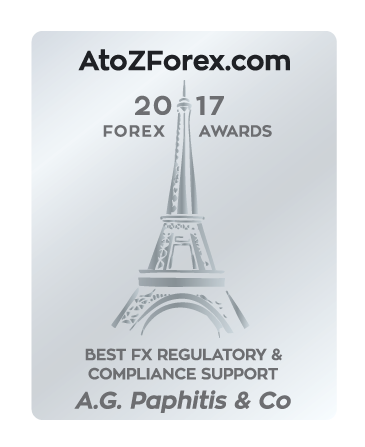 AGP Law's Financial Regulatory and Advisory Department is a proud to have been the winner of the 2017 Forex Awards, in the Best FX Regulatory & Compliance Support award category, hosted by AtoZForex.com at the Paris Hotel, Las Vegas, Nevada.  
Our team of qualified professionals, lawyers with particular expertise on AML and Compliance laws and regulations, provide comprehensive services to Brokers, Investment Firms and Financial Institutions, including:
Preparation and drafting of AML and Compliance Manuals and procedures,

Following up with the regulatory changes and modifying existing supervisory and compliance procedures accordingly,

Assisting in day-to-day compliance and regulatory questions,

Assisting in customer complain procedures and handling,

Preparing our clients for Regulator Audits and helping you respond on Regulator's inquiries,

Preparation for Internal Audits,

Ongoing review of websites, advertisements and promotional material ensuring they are on line with all regulatory provisions,

Assisting in identifying potential compliance risks,

Establishing Know Your Clients (KYC) and AML programs,

Providing periodic compliance reports and recommendations.