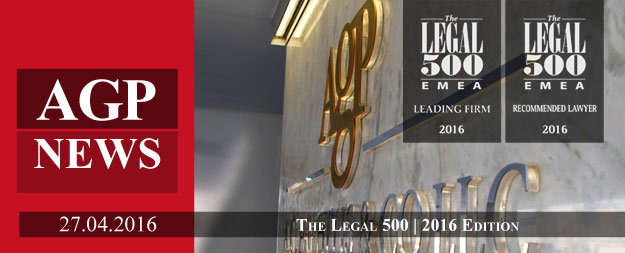 AGP Law Firm, has been recognized as a Leading Firm for 2016, which is the fifth consecutive year in a row,  by THE LEGAL 500 – the world's largest legal referral guide.
We are pleased to announce that all four departments of AGP have been awarded separately.
AGP Regulatory & Compliance Department awarded in Banking and Finance:
"AGP Law Firm | A.G. Paphitis & Co. LLC handles banking, asset management and regulatory matters and has notable experience in money-laundering cases. The team is headed by Angelos Paphitis and George Paphitis."
AGP Corporate Department awarded in Commercial, corporate and M&A:
"Headed by the 'experienced and pragmatic' Angelos Paphitis, AGP Law Firm | A.G. Paphitis & Co. LLC's corporate team advises a significant number of international corporations on day-to-day matters and handles cross-border group structuring or restructuring. Clients include TMK Group, VS Energy International and Lottobooker." 
AGP Litigation Department awarded in Dispute resolution:
"AGP Law Firm | A.G. Paphitis & Co. LLC frequently represents clients in complex, high-value corporate disputes, including shareholder disputes and disputed winding up procedures. Angelos Paphitis is experienced in commercial cases."
AGP Tax Department awarded in Tax:
"Angelos Paphitis heads the tax practice at AGP Law Firm | A.G. Paphitis & Co. LLC, which acts for clients such as TWILINE and Bright Capital."
To find more about our awards, you can click here.