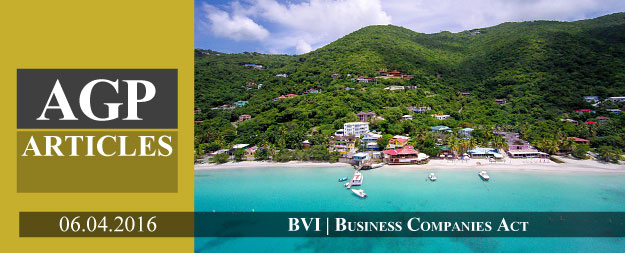 BVI Business Companies (Amendment) Act, 2015 – Key Changes
The BVI Business Companies Act 2004 (the Act) was amended on the 21st of December 2015.
Among the key changes are the following:
Key Change No. 1 – Filing Register of Directors
Under the amended legal framework, every BVI company is required to submit a copy of its registry of directors to the Registry of Corporate Affairs.
According to the provisions of Article 118A of the amended BVI Business Companies Act, the Register of Directors must name each present and prior director of a company, providing the following information:
full name and former name(s);

date of birth;

nationality;

residential address;

address for service;  

occupation;

dates when the director was appointed and/or ceased to act.
In case the director is a legal entity, similar information is required.
Timeframes
New BVI Companies (incorporated after the amended law came into force) must file their register of directors within:
14 days for the appointment of the first directors.

21 days for any changes.
Existing BVI Companies
A transition period is provided, which is expected to last until the 31st of March 2017.
A filed register of directors will only be accessible, in case of a Court order or by a competent authority as well as by the company itself or any other authorized person, but not by public. 
Key Change No. 2 – Arbitration clauses
According to the amendments, BVI companies will be able to include arbitration clauses in their  Articles of Association, providing for disputes involving the company and/or its members etc.
Key Change No. 3 – Registered agents
The registered agents of a company will be required to act on a valid resolution of the board of directors of the company and recognise any appointment or removal of a director by the shareholders (irrespectively of the wishes of their client, who gave the initial instruction to incorporate the company).
Key Change No. 4 – Surrender of Shares
The amending law introduced a mechanism for a shareholder to surrender his/her shares to the company.
---
Additional note on the enhanced due diligence requirements regarding the  BVI companies:
Furthermore, please keep in mind that due to the BVI Proceeds of Criminal Conduct Act and the various regulations on the prevention of money laundering, the AML procedures and requirements have become more rigorous.
As a result, corporate services providers in order to ensure compliance with the aforementioned regulations have to:
proceed to an annual file review for each company they manage;

perform a risk assessment;

update the relevant identity and address details;

obtain updated information on the transactions and business operations of each company under their administration.
---
The above information is provided for general purposes only and does not constitute legal advice.
For further information on the amended BVI Business Companies Act you can get in touch with our corporate lawyers.