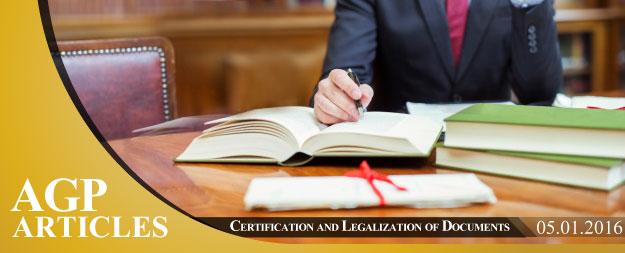 Recommended contact person
Certification & Legalization of Documents in Cyprus
If you are planning to open a bank account in Cyprus, you will have to meet the requirements of the KYC procedure. Banks and financial institutions within the frames of their KYC policy often require a certified copy of the requested documents. This is just one example, where original documents (or their copies) must be certified prior to their submission. Several questions may arise. For instance:
Who can certify documents and how?
It depends on the kind and the purpose of the document, as well as on its issuing authority. For instance, your lawyers can certify the authenticity of a document ("true copy") or the relevant competent authorities that have issued the said document. A notary public can certify the authenticity of the signatures present on the documents.
However, this certification may not be enough. For instance, if a document that has been issued in Cyprus will be used in another jurisdiction, then its legalization via apostille may be required.
What is an apostille?
All countries that have signed the Hague Convention of 5th October 1961, among which is Cyprus, accept and recognize apostilled documents. The Ministry of Justice and Public Order is the relevant competent authority in charge of the implementation of the aforementioned Convention. The apostille certification attests the authenticity of a document, so that it can be used in the other jurisdictions – signatories of the Hague Convention.
What documents can be apostilled in Cyprus?
All official local public documents that have been issued by an authority in Cyprus. The apostille can be put on the original document or on a true copy, provided that it has been authenticated by the authority which has issued the original.
Documents proving civil status:
Passport;
Identity Card;
Birth certificate;
Marriage certificate;
Divorce certificate;
Death certificate;
Certificate of adoption;
Evidence of a change of surname, name;
Clear criminal record and others.
The following documents can be apostilled only if they are original:
Corporate documents issued by the Department of the Registrar of Companies in Cyprus
Power of Attorney
Statements
Contracts
How long does it take to certify documents with apostille?
Provided that the original documents are in order, they can be certified within one working day.
Can a document in a foreign language be certified in Cyprus?
Only documents in Greek or in English can be apostilled in Cyprus without any further procedures. If the original document is in another language, then an affidavit, testifying the accuracy of its translation is required.
What if the documents are intended to be used in a jurisdiction, which does not adhere to the Hague Convention?
In this case, you can get in touch with the local Consulate or Embassy of the country in question.
For advice on the legalization or certification of your documents, you can get in touch with our consultants.