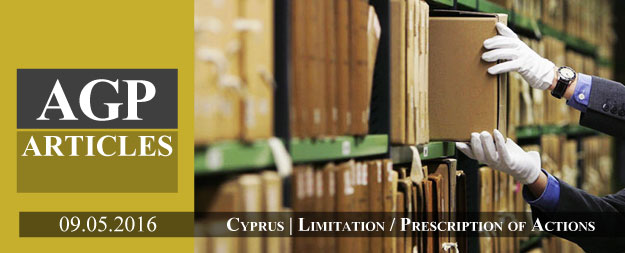 The limitation/prescription periods are governed by the Limitation Law [66(I)/2012], which introduces certain time limits for the filing of civil claims and time starts to run on the day upon which the cause of action accrues, also known as "the completion of the basis of action".
Please note that the limitation period is measured from the 1st of January 2016.
General limitation period:
No action can be brought upon in respect of any cause of action after the expiration of ten years from the day when the cause of action arised, unless otherwise provided for in any other law.
Provisions for specific cases:
Mortgages or pledges
Limitation period: 12 years
Torts (Civil Wrongs)
General limitation period: 6 years
Negligence, nuisance, breach of statutory duty
Limitation period: 3 years from the completion of the basis of the claim, unless the Claimant who suffered the injury became aware of the damage at a later date. In this case, the limitation period is calculated from the date in question.
Personal injury or death
The Court at its discretion may extend the time limit, provided that the Claimant applies within 2 years of the expiration of the limitation period.
Defamation, malicious falsehood
Limitation period: 1 year
Contracts:
Limitation period: 6 years, unless otherwise stated in the following two cases.

Contract or quasi-contract for any remuneration, fee or charge of, inter alia, advocates, medical practitioners, dentists, architects, civil engineers:

Limitation period: 3 years

Loan agreements, secured by mortgage, that do not provide for the repayment of debt on a fixed date and that do not require as condition to give notice to the debtor

The limitation period cannot commence prior to the service of a written notice by the lender(s) to the borrower.
Probate – Inheritance matters
Limitation period: 8 years from the date of death. This period is subject to exemptions.
Limitation period non-commencement and suspension
The limitation period shall not start, or in case it has already started, shall be suspended in any of the following cases:
between spouses during their marriage, even though the marriage is later annulled;

between parents and children while the children are minors;

between trustees and trust beneficiaries while the trust beneficiaries are




minors or until the beneficiary is born and comes of age;

between the executors of a will or the administrators of a deceased's estate




and heirs or legatees of the deceased are minors ; and

between cohabiting partners during cohabitation.
For further clarifications and details on the limitation law, please get in touch with our litigation lawyers.