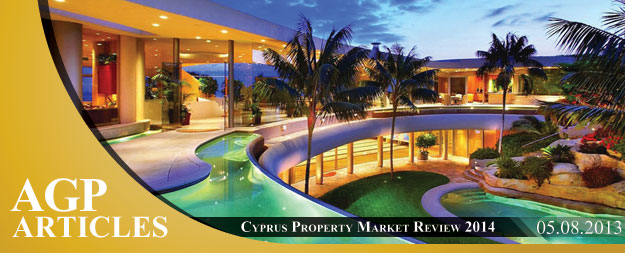 General Overview
Cyprus – Centre of Attraction

Located at the crossroads of Europe, Asia and Africa

Natural environment combing seaside areas and mountain landscapes

Excellent climate

Low cost, while high standards of living

Excellent infrastructure

Sense of security – Low crime rate

Low tax regime

Citizenship benefits to investors

Access to EU Markets
Cyprus Property Market
The Cyprus Property Market in Cyprus is concentrated in the major urban areas of Cyprus:
Nicosia (capital)

Limassol (international business centre and seaside tourist resort),

Larnaca (Cyprus International Airport and International Free Trade Zone)

Paphos (mainly seaside resort areas)
The property market is driven both by local and foreign demand.
In the previous years, it has been made obvious that the financial crisis and the property market are correlated. The banks have tightened their loan criteria and as a result the local demand has decreased and the Cyprus real estate market has undergone a slowdown.
Significant Projects
In order to reverse the negative trends and encourage investment, the government and the private sector are promoting more real estate projects, among which are the following:
Limassol Marina 
The Limassol Marina, a project of €350 million, took place on the 19th of June. It offers 650 berths for yachts, luxury apartments and villas. It includes a listed building which houses a marine training school and a cultural centre, which hosts events and exhibitions.
Science Technology Park
The Government is currently promoting the creation of the Science Technology Park (STP) in Pentakomo (district of Limassol) which is expected to host applied research and academic centres, business incubators and clusters, knowledge-based enterprises, organizations and institutions. It is expected that the creation of the STP will increase investment in the Real Estate market as well.
Casino
The governments is expected to grant one licence for a casino resort in Cyprus. The project is expected to attract numerous investors.
A National Gaming and Casino Regulatory Authority will be established and will take over the supervision, monitoring, the implementation of the relevant legislation and the income collection.
The relevant legal framework is currently under consideration and is expected to enter into force within the next months.
Condo Hotels in Cyprus
A legal framework regulating the introduction and implementation of Condo Hotels in Cyprus, as it has been defined by the Cyprus Tourism Organisation, entered into force on the 1st of July 2013.
Cyprus Investment Program
According to the Council of Ministers' decision of May 24, 2013, and the subsequent amendments, a foreign investor may be entitled to Cypriot citizenship, provided that certain conditions are fulfilled.
For more information on the legal and financial aspects of Real Estate in Cyprus, please get in touch.