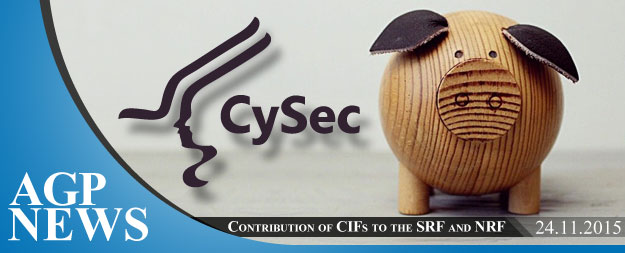 On the 23th of November 2015, the Cyprus Securities and Exchange Commission (CySEC) issued a circular on the Contribution of Cyprus Investment Firms (CIFs) to the Single Resolution Fund (SRF) and the National Resolution Fund (NRF).
It is announced that Cyprus is in the final stages of implementing the European Directive 2014/59/EU, establishing "a framework for the recovery and resolution of credit institutions and investment firms".
The Directive provides for the creation of a mechanism for handling insolvency situations. The mechanism in question will consist of three stages:
preparation & prevention;

early intervention;

resolution.
Investment firms that are required to hold initial capital of at least € 730.000 must comply with the provisions of the said Directive and will have to contribute to the National Resolution Fund.
Furthermore, according to article 2(c) of the European Regulation 806/2014, an investment firm that operates under "the consolidated supervision of its parent undertaking carried out by the European Central Bank" will have to contribute to the Single Resolution Fund instead of the National Resolution Fund.
Further details regarding the timeframes of the payments to the Funds will be provided at a later stage.
For legal advice on the aforementioned Directive, you can get in touch with our Regulatory Advisory Team or you can subscribe to our newsletter to stay informed.