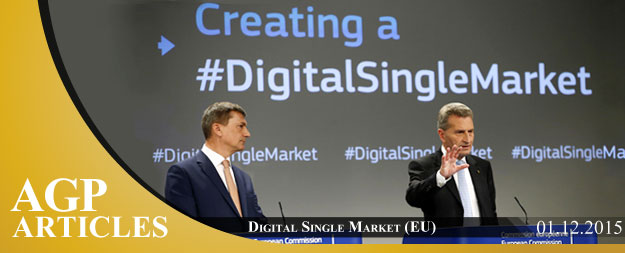 What is the EU Digital Single Market?
It is a market which ensures the free movement of persons, services and capital, the fair competition, as well as consumer and data protection for individuals and companies carrying out activities online and participating in cross-border e-commerce transactions.
Who can benefit from the Digital Single Market?
In a nutshell, practically everybody can benefit from the implementation of the EU Digital Single Market.
Below you can find some examples:
SMEs and start-ups

Established businesses

The creative sector (artists, musicians, film producers etc.)

Consumers from the EU member states, as well as from third countries.
What is the Digital Single Market strategy?
On the 6th of May 2015, the EU Commission adopted 16 initiatives/measures, within the frame of the Digital Agenda for Europe.  The measures that are expected to be implemented by the end of 2016 are based on the following three pillars:
Better online access to digital goods and services;

Creation of a propitious environment for digital networks and services;

Maximization of the growth potential of the digital.
In detail, what do these measures/initiatives include?
Legislative proposals aiming to facilitate cross-border e-commerce transactions (i.e. proposal of contract rules between businesses and consumers);
Review of the Regulation on Consumer Protection Cooperation;
Implementation of more efficient and affordable parcel delivery measures;
Legislative suggestions to end unjustified geo-blocking (forced redirection to other websites with different prices etc.);
Identification of potential antitrust/competition issues in the e-commerce sector;
Modernization of the copyright regime (to ensure enforcement of intellectual property rights online etc.);
Review of the Satellite and Cable Directive, to handle issues regarding cross-border broadcasting etc.;
Reduction of administrative burden, caused by different VAT regimes;
Legislative proposals to amend the current EU telecoms rules;
Review of the audiovisual media framework;
Analysis of the role of online platforms (including ways to fight the distribution of illegal content etc.);
Data protection (review of the e-Privacy directive);
Measures in the area of cybersecurity;
Proposal of a "European free flow of data initiative", to encourage free movement of data, as well as the launch of a European Cloud;
Definition of priorities for "standards and interoperability" in areas of public interest such as e-health, transport planning, energy and others;
Support  and promotion of an inclusive digital society, where citizens have all the necessary skills to seize all the available opportunities, as well as the creation of an e-government, which shall promote a "single digital gateway" integrating and connecting the national business registers.
And what about Cyprus?
Cyprus is an active participant in the realization and implementation of the EU objectives in this area. The EU Digital Single Market "can create opportunities for new startups and allow existing companies in a market of over 500 million people". As a result, companies are encouraged to establish and/or expand their business in Cyprus, as a gateway to the EU Digital Single Market. Thereby, such companies can benefit from the opportunities the digital economy and the e-commerce sector can offer, while taking advantage of a favorable tax regime.
For further information and/or advice on how you can benefit, you can get in touch with our lawyers and tax consultants.