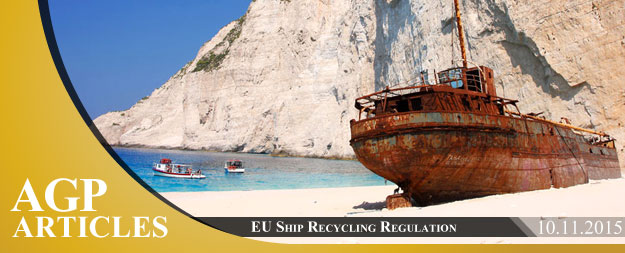 In October 2015, the Department of Merchant Shipping issued a circular for all the registered owners, managers and representatives or ships flying the Cyprus Flag, as well as of other ships calling at Cyprus ports.
The purpose of the said circular was to inform all concerned parties on the implementation of the EU Regulation (No. 1257/2013) on ship recycling.
What ships are concerned?
All ships (flying the flag of an EU member state) of gross tonnage exceeding 500 GT and that are engaged in international voyages.
The article 12 of the Regulation applies to all ships flying the flag of third countries that are calling at ports of a member state of the EU.
What does the regulation provide for the control of hazardous materials?
According to the article 4 of the Regulation, the installation of use of hazardous materials is prohibited or restricted. Further information can be found in the Annex I of the Regulation.
Please note that each ship must maintain an inventory of hazardous materials (IHM).
What one should know about the inventory of hazardous materials?
The inventory of hazardous materials must be tailored to each ship and has to consist of the following three parts:
Part (1) The materials contained in the ship structure must be properly maintained and updated throughout the operational ship's life.
Part (2) List of operationally generated wastes
Part (3) Stores
New ships are required to have on board an Inventory of Hazardous Materials prior to entering into service after the date of effective application of the Regulation.
Existing ships are required to have their Inventory of Hazardous Materials on board from the 31 December 2020.
What surveys should a ship undertake?
An initial survey -> to be conducted before the ship is put in service. For existing ships, an initial survey shall be conducted by 31 December 2020.
A renewal survey -> to be conducted at intervals, which shall not exceed five years.
An additional survey -> to be conducted upon owner's request after any modification or repair.
A final survey -> to be conducted prior to the ship being taken out of service and before the recycling of the ship.
For further information on the regulation on ship recycling, get in touch with our lawyers.