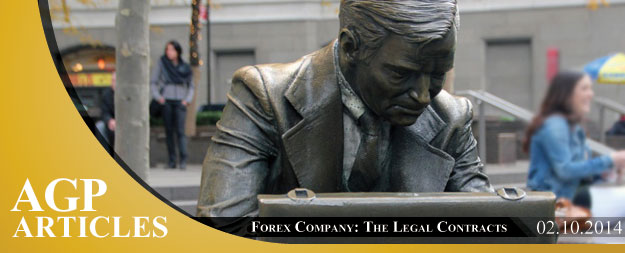 Setting up your Forex Company: The Legal Contract writing side of things
Setting up your Forex Company in Cyprus is not complicated, especially if you have a good law firm helping you set up all the necessary processes and procedures in order to be compliant with CySEC regulations, which is the Cyprus Securities and Exchange Commission. 
Assuming your Cyprus Forex Company has been set up, and everything has been put in place, there are some necessary legal documents required before you can actually begin.
For your website, you will need at least:
A Risk Disclaimer, two in fact, a condensed version to be placed on every page, and a detailed version that is easily accessible to the trader choosing to use your website. Within this disclaimer, it is important that all risks are mentioned and that the trader must be in a position to risk losing all of his money.
Water tight Terms and Conditions. Your terms and conditions need to cover all areas of the services you provide, and be wide enough to cover all possible interpretations of each service. They should be clearly written and have direct links to the Risk Disclaimer and Privacy Policy. When changes are made to the Terms and Conditions, it is important that this is mentioned on the site. Terms and Conditions cover the usage of the site and therefore are extremely important. It deals with third parties, marketing, usage, privacy, behavior, bank accounts etc.
A Privacy Policy is needed in order to inform the client of how his/her personal data will be used. This information can include name, date of birth, email, address, bank details, financial situation, trading activity, transaction history, account balance information and certain "KYC" (know your client) documents. The Privacy Policy should explain how this information would be managed, stored, and communicated to other parties.
A Client Agreement is an agreement that deals with the relationship between the Forex Company and the client/trader himself. It contains information on the setting up of the account, actions in the account, guarantees, appointment of others, recording of communications, explanations and representations of client with regards to electronic signature, representation of client that s/he has understood the terms and conditions and risks involved and has not been promised anything by an independent broker, and an acknowledgement that the Forex company is not acting as a consultant in anyway.
At a later stage, if your Forex Company starts to hire Affiliates and Independent Brokers in order to promote your services, it is important that you sign the necessary agreements with them in order to protect your clients and your company.
In any case, a law firm with a good reputation within the Forex Industry should be able to provide a one-stop shop, for all your needs.