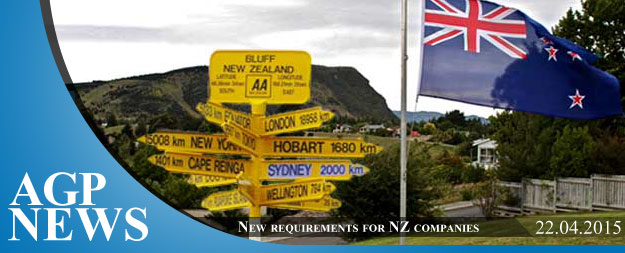 Amendments to the Companies Act of New Zealand introduced new requirements for the directors of New Zealand Companies which will come into force on the 1st of May 2015 for new companies. Existing companies incorporated before the 1st of May and filing annual returns after the 1st of July should comply with the changes regarding the requirement for additional information until the 1st of July 2015 and regarding the residency requirements until the 28th of October 2015. 
Residency requirements
According to the new provisions, every NZ incorporate company should have:
a director who is resident New Zealand or

a director who is resident in Australia, provided that s/he is also director of a company incorporated in Australia.
Requirements for the provision of additional information
In addition to the aforementioned, the company should provide information on the dates and places of birth of all directors (this information will not be disclosed to the public), as well as details of any ultimate holding company, if applicable.
In case of non-compliance, what are the risks?
Non-compliance can be ground for removal from the register.
Also, please note that these requirements do not apply to companies that are incorporated overseas, but registered in New Zealand.
If you have any questions regarding the upcoming changes, please get in touch.