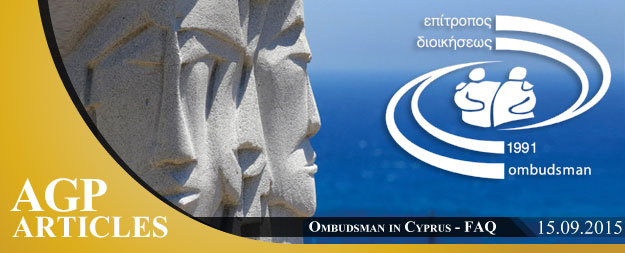 What should I know about the Ombudsman?
Ombudsman, also known as the Commissioner of Administration, is an independent state official, appointed by the President of the Republic after the suggestion of the Council of Ministers and the approval of the majority of the Parliament.
The Commissioner is in charge of controlling the public administration and ensuring the protection of the citizen and the human rights, ensuring equal treatment without any discrimination.
According to the article 5(1) (a) of the Law on the Commissioner for Administration  and the Protection of Human Rights (1991), the Commissioner has the competency to investigate complaints against actions and/or omissions of any public service or officer exercising executive or administrative function, violating human rights or in contravention of the applicable laws and/or rules.
Who can file a complain to the Ombudsman?
A physical person;

A legal entity, including associations, trade unions, political parties and any other organized groups.
What public services can be subject to the control of the Ombudsman?
Ministries and any ministerial departments and services;

The Public Educational Service;

The Police;

The National Guard;

Public Law Companies, including:

The Electricity Authority of Cyprus;

The Cyprus Telecommunications Authority;

The Cyprus Ports Authority;

The Cyprus Broadcasting Corporation.

Local government authorities (Municipalities and Community Councils);
What organs cannot be subject to the control of the Ombudsman?
The President of the Republic;

House of Representatives;

Council of Ministers;

Supreme Court and Courts subject to Supreme Court;

The Attorney General of the Republic;

The Auditor-General;

The Governor of the Central Bank;

The Public Service Commission.
What kind of complains cannot be examined?
The Commissioner does not consider complains concerning:
Private disputes;

Actions concerning relations between the Republic of Cyprus and any other state or international organization or matters concerning the defence, the security or the foreign policy of Cyprus (as confirmed by the competent Minister);

Actions regarding which there is a pending process before a Court or a pending examination of the actions before another instance;

Disciplinary or penal offences;

General government policy;

The actions of a Minister, as a member of the Council of Ministers.
What are the applicable timeframes?
The complaint must be filed within twelve (12) months since the moment the applicant became aware of the actions or omissions in question.
For legal advice on other out-of-court dispute resolution alternatives, please get in touch.