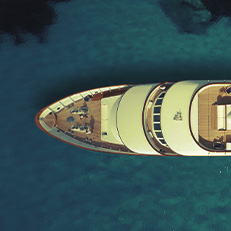 Ship & Yacht Registrations
Under the Advocate Laws of Cyprus, only lawyers registered as practising advocates in Cyprus are entitled to conduct any registry transactions. Consequently, the registration of a ship under the Cyprus flag may be conducted only by a local registered advocate.
Furthermore, the registration of ships and all related transactions are effected by the Registrar of Cyprus Ships, located at the Head Office of the SDM in Limassol. However, upon relevant instructions issued by the Registrar, there are certain transactions, such as the provisional registration of ships, which may be effected abroad by a Consular Officer of the Republic of Cyprus, located at any of the Diplomatic or Consular Missions of the Republic of Cyprus. The permanent and bareboat charter registrations are excluded from the transactions which may be effected abroad.
According to the Merchant Shipping (Registration of Ships, Sales and Mortgages) Laws of 1963 as amended, there are three types of ship registration in Cyprus, which will apply, provided that all the required (by law) conditions are met: (a) Provisional, (b) Permanent, (c) Bareboat charter registration (parallel – in and parallel – out).
A ship may be provisionally registered under the Cyprus flag for a period of 6 months, given that it was not previously registered at the Registry of Cyprus. The Provisional Certificate of Cyprus' Registry is valid for a period of 6 months from the date of issue. This type of registration may be extended for 3 months, given that specific conditions set by the law are satisfied. At the time of the provisional registration, the ship must be at port of anchorage for inspection and certification purposes, whereas at the time of its permanent registration this is not necessary. The permanent registration of a provisionally registered ship must take place before the ship's Provisional Certificate expires.
In the event of parallel-in registration, the bareboat charterer of the foreign ship may be a natural person or a legal entity which satisfies the qualification requirements applicable to the ownership of a Cyprus ship. The legislation of the State of registry of the foreign ship must permit its bareboat registration, which is usually for 2 years but it can be renewed.
Likewise, in the event of parallel-out registration, a natural person or a legal entity which qualifies to register the bareboat charter in another State - according to the legislation of that State – can be a bareboat charterer of a Cyprus ship, given that the said State allows for this action. The parallel-out registration period can last up to three years, but it can be renewed.
In both cases of parallel registration, the ship remains registered in parallel at the Registry of its State of origin. The deletion of the ship from the Registry of its State is not required.
We can assist with the registration (provisional, permanent, or bareboat) of a ship in the Registry of Cyprus;

Also, our services include assistance regarding the registration procedure of yachts and boats under the Cyprus flag;

Moreover, in collaboration with reputable foreign law firms and service providers, we can offer:

Registration of ships and yachts in foreign jurisdictions

Registration of shipping companies in foreign jurisdictions

Deletion of ships and yachts in foreign jurisdictions

We can help with the certification and registration of coastal passenger and small passenger vessels under Cyprus flag, as per the Coastal and other Passenger Vessels Regulations of 2012 (P.I. 278/2012)