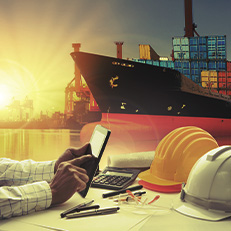 Tax Advisory
Cyprus' prominent position in the shipping sector is further reinforced by the considerable tax incentives it offers but also by the numerous double tax treaties that were concluded with many countries.
The Tonnage Tax System (TTS), which was officially approved by the European Commission in 2010 is covering the three basic shipping activities, namely, ship owning, ship management and chartering. This innovative legislation provided inter alia, certainty in the annual expenses; in contrast to the usual corporate tax, the tonnage tax is simply a fixed percentage on the total net carrying capacity of a ship.
Beneficiaries of the TTS are exempted from the payment of income tax under the provisions of the Income Tax Law in force. Owners of Cyprus and foreign ships, ship managers and charterers can be the beneficiaries of this fiscal legislation, which has been in effect since 2010 and is governed by the Merchant Shipping (Fees and Taxing Provisions) Laws of 2010 -2020 (Law 44(I)/2010 as amended by Law 39(I)/2020).
We can advise shipowners, charterers and ship managers regarding the qualification conditions under the Tonnage Tax System and we can provide tax advisory services related to the shipping sector.