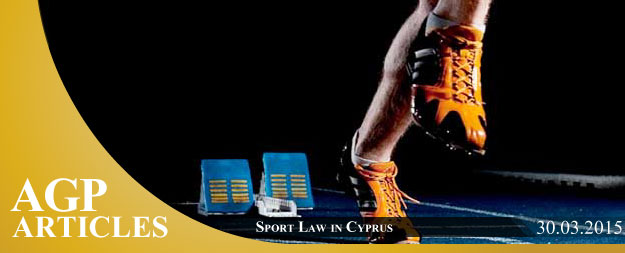 Recommended contact person
Sports Law in Cyprus
Sports Law  overlaps with a variety of areas, including inter alia employment Law, contract Law, tort Law, immigration Law and IP Law.
Therefore, the athletes and coaches, before hiring a legal representative in Cyprus, should ensure that their lawyers have expertise in the aforementioned areas or if not, have access to such expertise.
What kinds of contract issues an athlete might face in Cyprus?
As far as contract Law issues are concerned, an athlete and/or a coach must make sure that before signing a contract, s/he is acquainted with the various clauses and provisions.
A contract between an athlete and his/her club might be subject to breach.
For instance if the Cypriot club does not honour its engagement regarding its obligations toward the athlete, then the latter may file a claim for remedies and/or damages before Cyprus Courts or before Fifa's Dispute Resolution Chamber.
What about immigration issues? 
When it comes to immigration issues and procedures, athletes and coaches have a special status which exempts them from the limitation of the period of four years, over which Non-EU citizens, which have been granted a work permit, are not allowed to continue working in Cyprus.
Are the transfers of athletes regulated by the Law in Cyprus?
In Cyprus, there are no legal provisions regarding the transfer of athletes and the rules are set exclusively by its sports authority, which is however supervised by the State.
Which is the sports authority in Cyprus?
The Cyprus Sport Organisation is a semi-governmental organisation enacted by the 1969 – 1996 laws. According to the Law, Cyprus Sport Organisation is entitled to act as the Supreme Sporting Authority in the Republic of Cyprus.