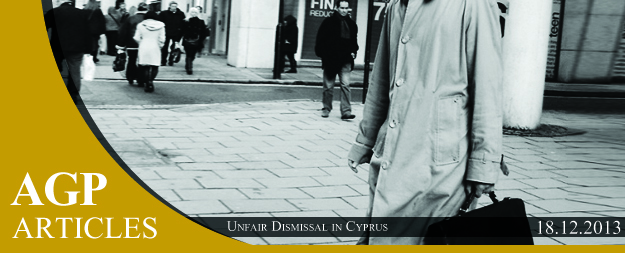 Recommended contact person
Every employee in Cyprus is protected by a statutory right not to be dismissed unfairly.  If an employee has been dismissed for no good reason then such a dismissal can be considered as unfair which may entitle the dismissed employee to a compensation by his/her employer.
The law itself provides the way of calculating the compensation that an employee may be entitled to, which it is based on the years of employment and the last salary of the employee.
For example, in case where an employee has been dismissed after working for 3 continuous years, with his/her last salary being of 1500 euro per month, the compensation that such an employee will be entitled to, provided that an unfair dismissal is proved, would be of 6 weeks' salaries, therefore 2250 euro.  
Limitation Period for filing an action for Unfair Dismissal in Cyprus 
In case of unfair dismissal, an employee must submit a labor dispute action, with the Labor Court of the district of his/her employment, within 12 months from the day of the dismissal.  Failing to abide the limitation period rules will result to a time barred action (i.e. the employees' rights are lost).