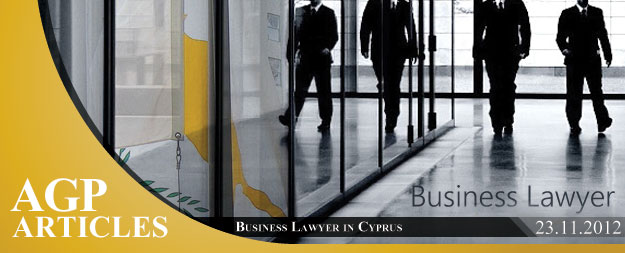 Business law in Cyprus is the branch of law which examines the topics that impact the operation of a business and which governs all the transactions between business entities. It is a broad concept which consists of many different areas of law including Contract law, Corporate law, Intellectual Property law, Competition law, Consumer Protection law, Internet law, Insurance law, Tax law, Trusts law, Securities law, Labor law, Employment law, Banking law and Bankruptcy.
A Business lawyer in Cyprus can be a person who has obtained at least a Bachelor degree in law and who has successfully passed the Cyprus Bar Examination in order to qualify for legal practice. A Business lawyer in Cyprus provides legal counsel to corporations and other business organizations, assisting them in understanding business laws related for example to tax, securities, licensing, bankruptcy, contracts and employment issues. A Business lawyer also drafts or reviews business documents, negotiates business agreements and represents his or her clients in criminal and civil courts. Basically, the job of a Business lawyer is to guide company executives on legal proceedings on variety of matters. The most important types of a Business lawyer in Cyprus are the following:
Commercial lawyer:  A Commercial lawyer in Cyprus reviews, drafts and negotiates commercial contracts for leading clients, usually big companies or corporations that engage in business transactions. A Commercial lawyer also represents his or her clients in judicial proceedings concerning commercial matters for example an individual or company suing another individual or company or defends a corporate client who gets sued.  In Cyprus a Commercial lawyer can be an «in – house» lawyer, meaning that he or she will be a full-time employee of a company or organization and will be the company's private legal counselor. A Commercial lawyer can also deal with Information Technology (IT) matters or with Trust formations and Trustee services.  

Corporate lawyer:   A Corporate lawyer in Cyprus is a lawyer who specializes in laws and regulations that apply to corporations. The obligation of a Corporate lawyer is to ensure the legality of commercial transactions and to advise the corporations he or she works for on their legal rights and duties, including the duties and responsibilities of corporate officers. In order to do that, a Corporate lawyer in Cyprus must have an excellent knowledge of aspects of company law (especially company formation matters and corporate governance issues), contract law, tax law (both local and international tax), accounting law, securities law, bankruptcy, and must be well aware of the laws specific to the business of the corporation he or she works for. 

Intellectual Property lawyer:  An Intellectual Property (IP) lawyer in Cyprus is a lawyer who specializes in law that regulates the ownership and registration of patents, documents that describe the physical and mechanical properties of an invention, as well as other forms of intellectual property including trademarks (e. g Nike's logo), trade secrets (e. g McDonald's secret sauce), copyrights (e. g ownership of music songs or other creative works) and industrial design rights. The job of an IP lawyer is to counsel and educate his or her clients, usually producers like inventors and writers and musicians or big firms that have to protect trademarks and preserve trade secrets, on intellectual property law. Additionally an IP lawyer has to help clients create brand images and has to register the patents, trademarks and designs of each client to the necessary forums and to initiate legal actions against the persons who infringe those patents, trademarks and designs.

Internet and E–commerce lawyer:   An Internet and E–Commerce lawyer in Cyprus is a lawyer who specializes in laws and regulations that apply to the use of the Internet. Internet law (or Cyber law) deals with matters such as electronic commerce, cyber crime, freedom of expression, web intellectual property rights, domain-name issues, data protection, jurisdiction and choice of law, and privacy rights. The job of an Internet and E – commerce lawyer is to provide his or her clients with legal counsel and litigation representation on all the above-mentioned matters which can include protection of contractual rights and obligations over the internet environment, protection and registration of Web-sites, of computer software and domain-name, cyber crime cases like credit-card fraud, unauthorized access to computer systems, child pornography, software piracy and cyber stalking, protection of data and protection of personal privacy in the cyber space (e. g e-mail and on-line communication) and internet consumer protection issues. In Cyprus an Internet and E – commerce lawyer is usually an «in – house» lawyer meaning that he or she is employed by one technology or IT firm or other organization, representing its interests exclusively.