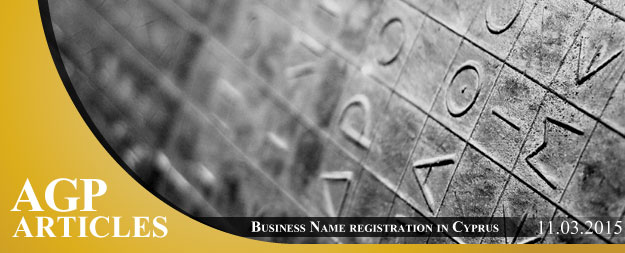 What is a Business or Trade Name?
A Business or Trade Name is the term used to denote a trading name, which is not a legal entity. Business names can be registered in Cyprus under the provisions of the Partnerships and Business Names Law, Cap 116.
Who can register a business name?
A single person or
A legal entity.
Which is the procedure for the registration of a Business Name?
Firstly, an application for name approval should be filed at the Registrar of Companies' Office in Cyprus. The name is subject to the approval of the Registrar of Companies, who may refuse to register it on the grounds that it may be similar to an existing one or is considered to be misleading or confusing.
Within six months after the approval of the name the applicant should file the appropriate form (Form B.N 1) duly completed for the registration of the business name.
After the registration, should the owner file additional applications for its renewal?
No, after its successful registration, the business name remains on the register until an application for removal is filed by the owner. In case the owner ceases his/her activities, then within one month a relevant notification must be submitted to the Registrar of Companies.
Does the owner of a business name have intellectual property rights over it?
No, the registration of a business name does not grant any IP rights to its holder.  For the IP rights protection, a Trademark must be registered.      
For any additional information on the registration of a business name in Cyprus, please get in touch.