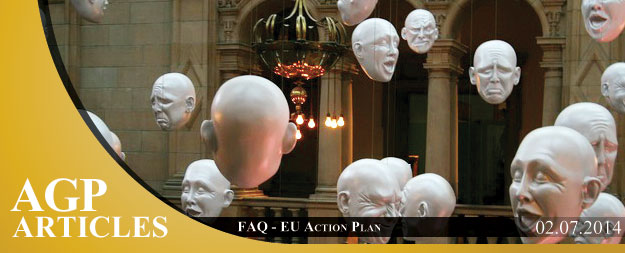 New EU Action Plan for the enforcement of IP Rights
1. What are Intellectual Property Rights infringements?
IP infringements are considered to be any breaches of intellectual property rights or illegal misappropriation of trade secrets. Intellectual property includes creations of the mind: inventions; works of literature and arts; and symbols, names and images used by companies and other legal entities for business matters.
Intellectual property is divided into two categories:
Industrial Property e.g. patents for inventions, trademarks, industrial designs and geographical indications.
Copyright, e.g. literary works (novels, poems and plays), films, music, artistic works (e.g. drawings, paintings, photographs and sculptures), architectural designs, performances, recordings, broadcastings etc.
2. Why does the Action Plan focus on commercial scale infringements?
The EU Action Plan focuses on commercial scale IP-infringements because these have the most negative impact on the EU economy. Among the objectives of the Plan, EU aims to deprive commercial scale infringers of their revenue flows.
Goods and services that are promoted and sold in the EU's Single Market and that do not respect intellectual property rights have an impact on everybody. Commercial scale IP-infringement discourages investment in innovation and undermines job creation. From a tax perspective, IP infringements limit tax revenues coming from these goods or services. Additionally, counterfeit goods are usually of a lower quality and can be dangerous or have a negative impact on the health.
3. What is new about the EU Action Plan?
The European Commission by its Action Plan aims to provide new tools for the enforcement of the Intellectual Property Rights and to minimize the economic negative impact resulting from commercial scale IP infringements. For the first time it also stresses the need for all stakeholders involved in the value chain for any IP intensive product – including right-holders themselves – to apply due diligence to avoid infringements. The aim is to stimulate growth and employment and reduce incentives for the many commercial scale IP-infringements that undermine the EU economy.
Below you shall find the ten action set out by the EU Action Plan:
Action 1
Develop, launch and monitor a new generation of targeted communication campaigns, aiming to raise awareness amongst citizens, especially young people on the negative impact of commercial scale IP infringements and on the potential health and safety risks associated with IPR-infringing products, as well as campaigns to highlight the benefits for consumers from choosing IP respecting products and to facilitate access to such products.
Action 2
Launch a series of consultation actions with all relevant stakeholders including civil society on applying due diligence throughout supply chains as a means to prevent commercial scale IP infringements. On the basis of the information collected it intends to develop an EU due-diligence scheme for this purpose.
Action 3
Conclude Memoranda of Understanding in order to minimize the profits, accrued from commercial scale IP infringements online.
Action 4
Analyse existing national initiatives aiming to improve IP enforcement procedures for SMEs, in particular in respect of low value claims and consider possible action in this field.
Action 5
Review nationally financed schemes assisting SMEs in the enforcement of their IP rights, through the issue a Green Paper to consult stakeholders.
Action 6
Consult stakeholders on the impact of chargeback and related schemes to tackle commercial scale IP infringements, through the issue of a Green Paper, in order to develop new strategies in this field.
Action 7
Establish a Member State Expert Group on IP Enforcement, where Member States could share best practice on the work within the EU of all their concerned authorities and be informed on the delivery of this Action Plan.
Action 8
Develop IP enforcement related training programmes for Member State authorities in the context of the Single Market.
Action 9
Develop, promote and publish a guide on best practice for public authorities to avoid purchasing counterfeit products.
Action 10
Publish a biennial report on the economic impact of the EU's IP policy that could serve as a more effective monitoring tool for the EU's new IP enforcement.
Source: European Commission – MEMO/14/449   01/07/2014