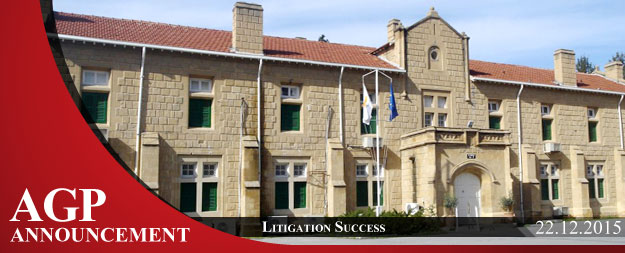 We are proud to announce that one more success has been added to the long track of successful cases of our Litigation Team. Our lawyers have demonstrated numerous times their expertise in obtaining interim orders and freezing injunctions on behalf of our clients. This time our lawyers have demonstrated their expertise in defending the interests of our clients (as Respondents) to whom interim orders have been addressed. 
BACKGROUND – THE DISPUTE AT THE LCIA
Our clients, two Cyprus companies with substantial assets, spanning a wide range of industries in Russia and including among others two banks and a significant number of other businesses, are involved as Respondents in a dispute (currently in progress) at the London Court of International Arbitration (LCIA).
EX PARTE (without notice) APPLICATION AGAINST OUR CLIENTS (INTERIM ORDERS AND FREEZING INJUNCTIONS)
The Petitioner in order to support his position at the LCIA against our clients, on the 06/11/2015, filed an EX-PARTE application (without notice) at the District Court of Nicosia, in Cyprus, in lieu of the LCIA pending arbitration, in order to obtain interim orders and freezing injunctions aiming to prevent our clients from selling, transferring and managing freely their assets (including their bank accounts) worldwide. This has inevitably caused significant pressure on our clients.
The interim orders and the freezing injunctions were granted during the ex-part process on the 11/11/2015, blocking assets up to 40 million USD of our clients.
SUCCESS – CANCELLATION OF INTERIM ORDERS
On the 04/12/2015, Mr. Angelos Paphitis, assisted by Ms. Niki Liassides, filed an Objection against this Interim Orders decision and after having proved (during the hearing on the 18/12/2015)  that the aforementioned measures were unnecessary and unjustified, we obtained the desired result: Today (on the 22/12/2015), the Court issued a decision in favour of the Respondents (our clients) and cancelled the interim orders and the freezing injunctions.