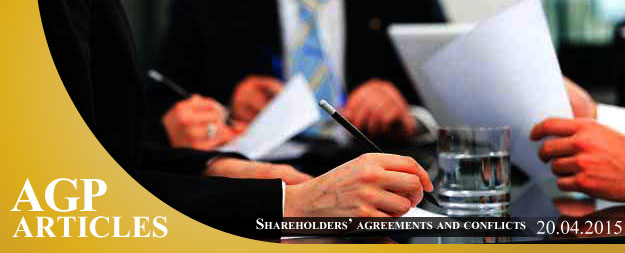 Why should you sign a shareholders' agreement?
A shareholders' agreement is an agreement between the shareholders of a company. It aims to protect the shareholders' investment in the company, to establish a fair relationship between the shareholders and set out the rules how the company should be run.
When setting up a company with partners with whom you might have a personal relationship if they are family or friends, you might be hesitant to sign a shareholders' agreement. And what if this move implies that you do not really trust them as business partners? So you choose to forgo the shareholders' agreement, hoping that in the future nothing will go wrong and you will not end up losing the relationship and the business in a legal dispute.
By drafting a proper agreement, all shareholders are made aware of their obligations towards each other, as well as of their rights. A shareholders' agreement not only protects all the involved parties but the existence of the company.
What exactly can be included in a Shareholders' agreement?
The agreement can:
set out the shareholders' rights and obligations;
regulate the issue, transfer and sale of shares in the company;
set out the rules regarding how the company is going to be run, including provisions regarding the appointment and removal of directors;
provide an element of protection for minority shareholders and the company;
define the decision making procedures;
clarify the dividends payments procedures;
provide competition restrictions;
as well as dispute resolution procedures.
When should the shareholders' agreement be drafted?
Usually, it is best to put a shareholders' agreement in place when you form the company and issue the first shares. In fact, it can be a positive exercise to ensure there is common understanding of shareholders' expectations of the business.
What happens in case of an Agreement violation?
If there is a breach of the Agreement any contracting party can enforce same by an action for specific performance, and for damages, as well as to apply for an injunction to block the violation of same.
Any term of the Shareholders' Agreement which contravenes any statutory provision of the Law is considered invalid under Cyprus Law.
Last, but not least, the shareholders' agreement and the articles of association should be consistent with one another.
It is essential to put in place a Shareholders' Agreement in order to protect the interests of all the involved parties and to limit the risk of potential conflicts which may arise if the expectations, rights and obligations are not made explicit.
In case you require legal advice on what should be included in your shareholders' agreement, please get in touch with our team.