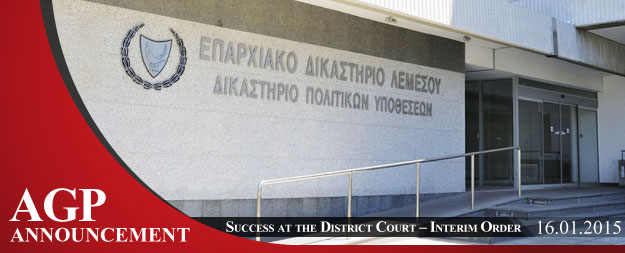 Successful Interim Order at the Limassol District Court – Interlocutory Injunction against two of the biggest Banks in Cyprus
On the 08/01/2015, our Firm's litigation team of lawyers was successful before the District Court of Limassol Cyprus, as an interim order (injunction) was issued in favor of our clients, on a bank matter which the Courts are in most cases hesitant to intervene by issuing an interim order.
Background 
Through the submission of an interim order (injunction) filed on behalf of our clients – a well known land developing company in Cyprus – we sought to prevent the liquidation of a bank guarantee for the amount of EUR 510.000,00 provided by our clients (as sellers of a property) in order to offer a guarantee towards the purchaser's bank securing that the sellers will transfer title to the buyer (so that his bank would then secure itself by mortgaging the property).  The bank guarantee was renewed 5 times due to delays by the Land Registry to issue title deeds, due to usual procedural reasons.  Upon issue of title deed our clients were ready to proceed with the transfer of title, however the purchaser refused to pay the transfer fees and to accept the said transfer, leaving our clients exposed before the risk of losing the amount of EUR 510.000,00.
Under the well established and consistent relevant case law, the Courts must avoid intervening into issues relating to bank guarantees, since these are documents of high commercial importance and the contrary would be a blow to the trade credit.
However, the District Court of Limassol delivered a judgment on the interim order and ruled in favor of our clients, prohibiting therefore the liquidation of our clients' bank guarantee.