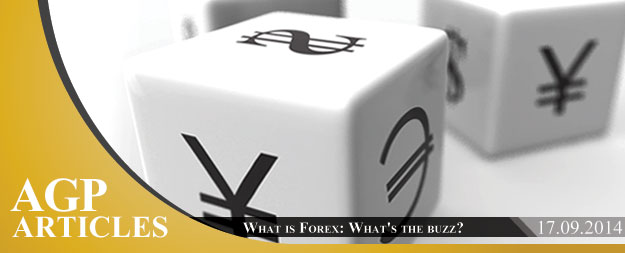 "Forex" or FX seems to be everywhere, so what is it? Forex is short for Foreign Exchange, which is where currency trading takes place. For example, you might buy euro with US dollars or sell Yen for Sterling. It is the participants in the market that determine the price.
Previously such trading was only limited to banks and big businesses, but today it has become the largest financial market in the world and the internet has made it accessible to individuals of all levels of financial experience.
What is great about it is that it practically operates non-stop and there is no central market, currency trading is done 'over the counter' or OTC which means that it is via computer networks between traders around the world.
Currency rates are quoted by important geographic centers such as London, New York, Paris, Hong Kong, Tokyo, Singapore, Frankfurt, Zurich, and Geneva.
The big interest in trading Forex is that Forex trading does not require physical purchase of the currencies, but rather involves contracts for an amount and exchange rate of currency pairs. A trader will aim to buy low and sell high and profit comes from the fluctuations in currency exchange. Of course, you must consider the risks as well as rewards.
This big boom in the Forex online trading industry, which has seen an invested daily volume of over 4 trillion, has caused a boom in the incorporation of Forex companies. Cyprus has become a popular location for such companies as it provides great benefits,  which we will look at below, and which are also stated in more detail in the article 'Cyprus Forex Company: Benefits" in our publications.
The financial regulator in Cyprus is the Cyprus Securities and Exchange Commission (CySEC). In order for a company to be able to provide Forex Trading, they need to have a Cyprus Investment Firm (CIF) license under MIFID (Markets in Financial Instruments Directive) from CySEC and operate as a regulated investment services firm from Cyprus in all EU markets, Russia, the Middle East, Africa, Asia or other third countries.
The benefits in brief in getting this license from Cyprus are:
Part of the EU and therefore an EU license
Low Capital Requirements
Low Operating and Licensing Costs
Strong Economy and Financial System
EU single Passport
Favorable Tax Regime, with double taxation treaties with more than 40 countries.
Getting a license in Cyprus is relatively quick in comparison to other EU members, and with the above benefits, a truly great location for setting up your FOREX business.