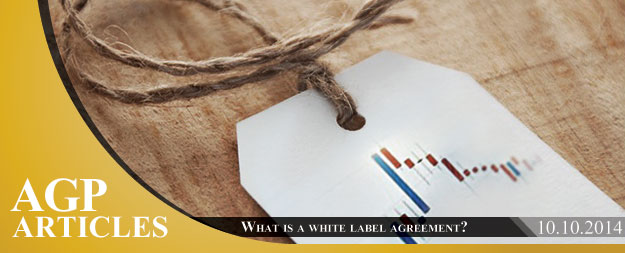 What is a White Label Agreement: Forex and Binary Options Trading
E-commerce is the business of the future, it is a new way of conducting business that breaks down nearly all barriers created by international frontiers and enables you to trade your product/service/good across borders. This allows a company to spread across more markets than they would ordinarily be capable of doing in a typical four brick walled company.
With e-commerce everything is usually done online, this includes marketing and promotion. Marketing and promotion online can offer quick and relatively cheap expansion into many markets.
One of the ways of doing that is by giving permission to an affiliate for example, to promote your branded website, its services/product. This permission needs to be explicitly written within a White Label Agreement as the affiliate is acting on behalf of the company and therefore the conditions of such need to protect the company and its rights.
The agreement is also used to state conditions and how revenue will be shared between the affiliate and the company when a client accesses the company's website through the affiliates.
A marketing affiliate is defined as "those entities which manage or own certain websites, mini-websites, banners, links and other traceable online marketing channels through which the original owners website can be accessed".
The White Label Agreement allows the affiliate to establish, operate, advertise, promote, and market a company's branded website on their own website, thereby allowing them to capitalize on the proprietary brands and trademarks.
The conditions of all of this capitalization will be set out within the White Label Agreement.
Some issues that the White Label Agreement deals with are:
The scope and Setup of the Affiliates website
Here issues such as the time period for setup, language of the website, its layout, customized tracking system, servers, security certification, integration of payment platforms and gateways, how content is uploaded, and permissions, are dealt with.
Licences
Following set up completion, a non-exclusive, non-transferable right and license to advertise, market and promote, manage and operate functions such as the back office, is given.
Express warning is given to the affiliate not to modify such proprietary materials, and any other materials that belong to the owner of the company. And that such actions are strictly prohibited.
Obligations of the Affiliate and the Owner of the company
Here, all obligations of the affiliate are written, this could include but is in no ways limited to; the obligation to ensure that the website is running smoothly and uninterrupted (especially in the case of trading clients), payments, risk management, fraud and anti-money laundering screening should be performed by the affiliate, content management, reporting, obligation to comply with legal terms and conditions.
Obligations of the company are also written, which may include business practice, functions, guarantees, payments towards affiliates, bare costs related to direct activity etc.
Affiliates Revenue Share and other fees
This is the consideration that is to be provided for the services and fulfillment of the affiliates obligations under the White Label Agreement. When a client lands on the affiliates website and registers as a client, it is actually registering with the company and therefore the affiliate will obtain a commission for such a referral.
Intellectual Property Rights
Here the Affiliate has to acknowledge that it has no Intellectual Property Rights on the company's' website or other materials. All the rights of the company should be protected, and the affiliate should ensure that it does not act in a way that may affect the reputation of the brand and therefore the product/service.
There are many other clauses and conditions that are included within a White Label Agreement, but what is important is that the agreement is very detailed, as misuse of a company's brand, website, rights, IP rights, licenses (software, jurisdiction, compliance), accounts etc., can have severe consequences.
As the risks are high for a non-secure White Label Agreement, it is important to contact a lawyer specialized in your industry and in E-Commerce to give you advise and draft your agreement to ensure that all areas are covered and that you are protected as much as legally possible.
For our newest article, please visit White Label Agreement in Simple Terms.
If you have questions or need clarification on white label agreements, please contact us.