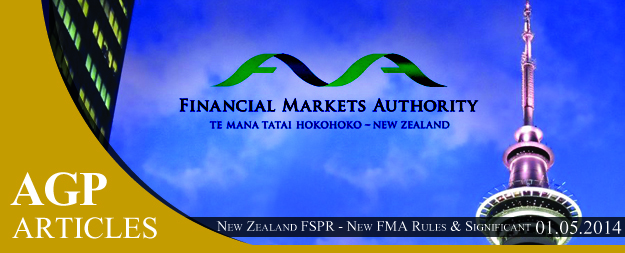 No doubt that the New Zealand Financial Markets Authority is now more focused than ever on ensuring deep disciplinary and regulatory approach.  On April 2014 new rules have been issued with regards to financial services companies and organisations registered in New Zealand.
The new Financial Markets Conduct Act requires those companies or organisations that provide a forex or binary options trading services to now apply for, and maintain, a licence from the Financial Markets Authority (the "FMA").  This licence is under the umbrella of a "derivatives" licence (forex and binary trading being caught under the definition of a derivative or futures trade).  Such companies must apply for a licence in addition to being registered on the FSPR – if you do not obtain a licence, then you cannot maintain FSPR registration.
The FMA have now provided a set of guidelines to assist with the application for a licence, which we have obtained for our clients' and associates' benefit.  The most important consideration is that in order to be licenced, there is now a requirement that the company or organization must have a capital reserve of NZD1million (approximately 872.500 US$ or 627.000 €) or 10% of the company's net tangible assets – whichever is the greater. This means that you must now maintain and be able to demonstrate a capital reserve of at least NZD1million. Failure to be able to demonstrate will result in termination of licence.
The process of registration is now underway and companies or organisations already registered with the FSPR have until the end of this year to register.
Should you wish to proceed with the licence application we are happy to assist with the application as part of our place of business service. The FMA may also levy a charge for the application.
If you do not wish to apply for a licence, we are also investigating the ability to register with alternative FSPR jurisdictions and will revert with an update on eligibility for those who are interested.