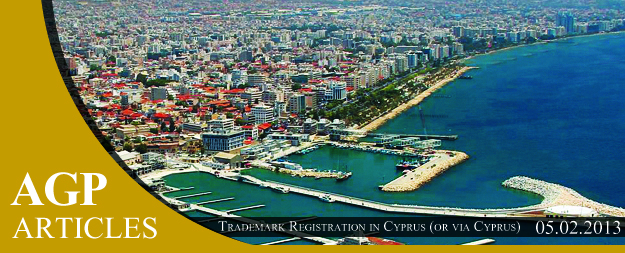 Trademark refers to the identification of the unique and distinct character of goods or services which are provided. It distinguishes one trader's goods or services from those of another.
AGP lawyers and paralegals with particular expertise on Trademark law and registrations assist our clients for successfully applying for:
Cyprus trade mark registrations

International trademark registrations (Madrid system)

EU Community trademark registration (Alicante OAMI system)
Cyprus is a Member of:
Paris Convention for the Protection of Industrial Property

Trademark Law Treaty, The WIPO Convention

Madrid Agreement Concerning the International Registration of Marks

The Madrid Protocol

The Geneva Trade Marks Law Treaty 1994

World Trade Organisation Agreement on Trade-Related Aspects of Intellectual Property Rights (TRIPS)
The Trademark Law in Cyprus
The registration and protection of trademarks is governed by the Trade Mark Law, CAP. 268 as amended.  Law 176/2000 has brought Cypriot trademark legislation in line with European trademark legislation.
Community Trade Mark
Cyprus being a member of the EU is also a member of the Office of Harmonization of the Internal Market (Trade Marks and Industrial Designs) which is the competent EU agency for the registration of trade marks and industrial designs.  Following Cyprus' accession to the EU, applications for the registration of Community Trade Marks may be filed directly from Cyprus therefore having the advantages of:
Fast Application Process, and

Low Fees
8 reasons why Trademarks should be protected:
The owner ensures the exclusive right to use it.

The owner need only to show its' unauthorised use, without having to prove actual damage to its' business; offering therefore better legal protection.

Stopping third parties from registering a trade mark for identical or similar goods and services.

Right of the owner to seize and/or remove infringing goods from the market.

Ability to authorise the use to third parties in return of financial profit (royalties).

It is an asset with valuable goodwill attached to it. Trademarks may be valued and included in the balance sheets of the business.

Avoidance of confusion in the market as to who devises and or promotes a particular product or service.

Leasing a trademark can be a well structured tax planning tip.