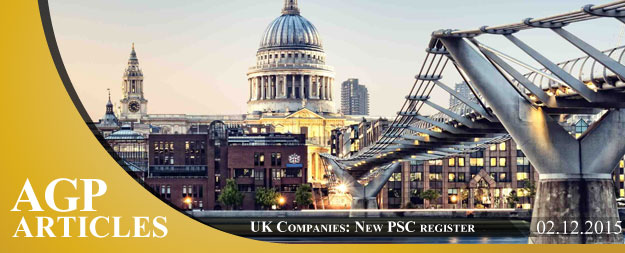 Do you own a UK company or are interested in opening or acquiring one?
If yes, please read the following information.
The Small Business, Enterprise and Employment Act 2015 (UK Company Law) introduced the requirement for disclosure of information on the people having significant control over a UK company.
What is the objective of the PSC register?
This reform aims to increase transparency around who ultimately owns and controls UK companies in order to fight against money laundering, terrorist financing and other illegal activities. The PSC register will be made available to public authorities, other companies, citizens in the UK and in other countries.
What is a " person with significant control"?
A person with significant control (PSC) is considered to be an individual:
owning or controlling directly or indirectly more than 25% of a company's shares or voting rights;

having directly or indirectly the right to appoint or remove the majority of the directors of a company;

having the right to exercise significant influence or control over a company;

having the right to exercise significant influence or control over the trustees of a trust or members of a firm, which has significant control over a company by fulfilling one of the aforementioned criteria.
When will the companies be required to comply with this requirement?
Companies will have to start keeping this register from the 6th of April 2016.
Furthermore, from 30 June 2016 they will have to submit this information to the Companies House, which shall be updated once every year.
New companies will be required to file their initial statement upon their incorporation and update this information once every year as well.
What information will have to be included in the register?
The register will have to include for each PSC the following information:
Name

Date of birth

Nationality

Residential Address

Details/Information on their interest in the company and/or the nature of their control over it.
This information will be made publicly available with the exception of the address and the day of the date of birth. People at risk of violence or threats can apply to keep their personal details undisclosed. However, it is to be noted that identified public authorities will be able to access such undisclosed information.
Moreover, under certain circumstances, information on a relevant legal entity (RLE) may have to be included in the PSC register.
What steps should the UK companies take in order to comply with this new requirement?
The UK companies will have to identify their PSCs and keep updated records of the required information at all times;
They  can send notices to their PSCs and the latters are required to reply and/or comply within a month.
Also, individuals aware (or that should be aware) that they are PSCs have to notify the UK company they control (even if they have not received a notice from the company).
Failure to comply with these new requirements will be treated as a criminal offence against the company and/or its directors and/or its PSCs.
If you have "significant control" over a UK company and want to avoid having your personal details made publicly available, what can you do?

One solution would be to stop having "significant control or influence" over a UK company by taking one of the following steps.
Make arrangements with another shareholder/beneficial owner in order to split the shares and avoid holding more than 25% of the shares.

Close the UK company (In this case, you may want to consider the possibility to use a company in another jurisdiction.)
The provided information is for general purposes only and does not constitute legal or other advice. For further information, please get in touch.