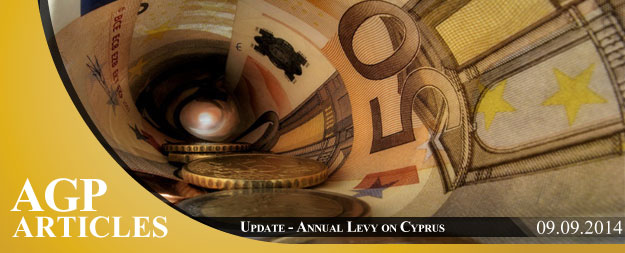 The Cyprus Parliament by the Law 190(I)/2012 amended the Law 117(1) of 2011, which introduced and set out the rules for the payment of the special levy on all Cyprus Companies.
The annual levy of €350 is payable by all companies registered in Cyprus as follows:
All existing companies (either dormant or not).
Any subsequent year the levy must be paid not later than 30th June of each relevant year.
Exemption
A company is not obliged to pay the levy in the year of its incorporation or in respect of the year of its incorporation.
The Law further provides that in the case of companies belonging to a group of companies, the total amount of levies to be paid by all the companies of the group shall not exceed €20.000.  Such amount shall be equally spread between all the companies of the relevant group.
Penalties of Delay in Payment of Levy
If the levy is paid within two months of the due date a penalty of 10% is imposed which is increased to 30% if the levy is paid within five months of the due date.
If a company which is liable to payment of the levy does not pay until 30th June, the levy will be increased by 10%, if it is paid by the 31st August.  In case, however, the delay in payment goes beyond 31st August, but not beyond 30th November of the relevant year, the levy shall be increased further by 30%.
Striking Off in Case of Non-Payment
Despite the above provisions, in case a company will not comply with the payment of the levy and any penalties which might occur, the Cyprus Registrar of Companies without notification will strike off the company from its records in accordance with the provisions of the Cyprus Company Law.
If the company is struck-off, it may be reinstated within two years by the Registrar of Companies upon payment of €500.  In such case the reinstatement will be automatic and the Registrar shall re-enter the company in the Register.
In case the company is not reinstated within two years from the date on which it was struck-off, the Registrar shall again make the relevant entry in the Register and reinstate the company but the amount payable for this shall be €750.