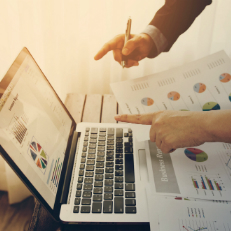 External Audit & Audited Financial Statements
Our motivation is to best serve our clients and to find solutions which will make your time more productive.  Through our long experience in the market we've created relationships with the best, both in quality and in cost.
When audit is concerned, you need to be rest assured that your auditor will deliver the true financial position of your company, and on time.  Having your company's financial position accurately represented within your financial statements will assure and satisfy you and your shareholders, creditors, tax authorities or future private investors.
We recommend auditors who can be both medium sized audit firms applying International Financial reporting Standards (IFRS) and offering personal services, but at the standards of excellence and to our satisfaction, as well as big four audit firms situated in Cyprus.
About audit
Cyprus companies are obliged by law to have their accounts audited once per year.  The auditor is appointed by the board of directors during the company's first minutes upon incorporation.  Offshore companies are not obliged to have their accounts audited but it is not rare for companies entering into a merger and acquisition transaction to have their accounts audited for providing higher level of assurance to the purchaser / investor.